Register for the 2023-2024 Moon Camp Challenge

What will a future human habitat beyond Earth look like? Find out with the Moon Camp Challenge, where teams of primary and secondary students can design a habitat for the lunar surface or go beyond the Moon and explore other worlds in our Solar System. Registrations are open!  
What is Moon Camp?
Moon Camp is an education project run in collaboration between ESA (with its ESERO network) and the Airbus Foundation, in partnership with Autodesk. It uses innovative learning technologies to challenge students to create their own human habitat for space exploration on the Moon or further into our Solar System.
When designing their space habitat teams will need to adapt their design to the space environment, consider the use of local resources and provide protection and living and working facilities for the astronauts. On the Moon Camp platform, you'll find fun hands-on classroom activities that focus on learning by-design and science experimentation.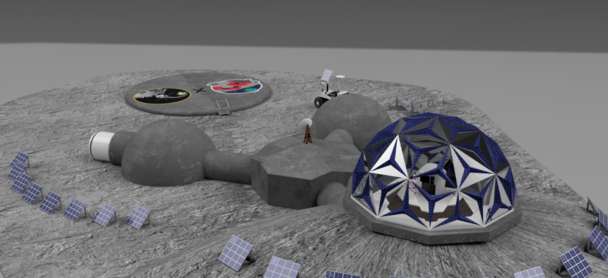 Caption: Moon Camp design by team Here We Are Back !
This year's challenge has a more flexible and open format:  the projects can range from a scientific experiment, a hands-on project, a design of space infrastructures, a 3D design of an astronaut base, a 3D printing model, a virtual or augmented reality world and much more. Teams have the freedom to select the topic and format that best fits their ideas and get creative!
All teams that submit a valid project will receive a participation certificate and their projects will be displayed in the Moon Camp Gallery. These teams will be invited to participate in a virtual event with an ESA astronaut and space experts.
How to Apply?
Participation is open worldwide to teams of students aged up to 19 years old. Registrations are open to individuals or teams, the projects must be submitted by parents, teachers, or educators. Students attending a postsecondary/tertiary institution are not eligible to apply.
To submit a project and for more information, please visit www.mooncampchallenge.org .